Change of modules from summer term 2020 on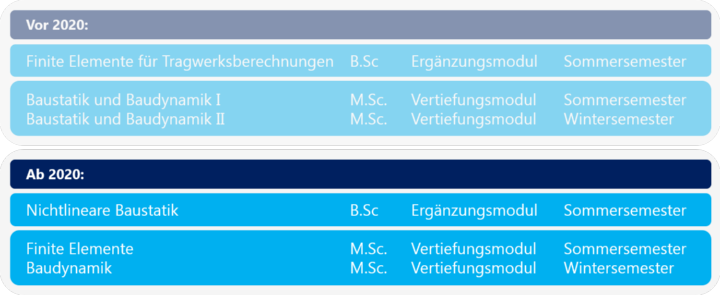 From summer term 2020 on, IBB offers the module "Finite Elemente" as a "Vertiefungsmodul" for Master students of civil engineering. It replaces IBB's former "Vertiefungsmodul" "Baustatik und Baudynamik I".
Contents of the former "Baustatik und Baudynamik I" are now lectured in the new module for Bachelor students "Nichtlineare Baustatik".
For Master students, "Nichtlineare Baustatik" can be chosen as a "Modul aus anderen Studiengängen" and will be accepted as a "Spezialisierungsmodul" for the Master's degree. Those, who want to have it accepted as a "Verteifungsmodul", should contact the examination board ("Prüfungsausschuss") via informal request.
Furthermore, from winter term 2020/2021 on, the new module "Baudynamik" replaces the former "Baustatik und Baudynamik II" as a "Vertiefungsmodul".
Modules in summer term 2021
Modules in winter term 2020/2021
Data Compression for Finite Element Simulation Results

Explicit dynamics and selective mass scaling (Various topics)

Implementierung eines geometrisch nichtlinearen dreidimensonalen Timoschenko Balkens

Isogeometrische Analyse von getrimmten NURBS Flächen

Modeling and efficient simulation of instabilities in structural and solid mechanics (Various topics)

Redundancy Distribution in Reduced Models

Vergleichende Untersuchung und Optimierung physikbasierter Modellierung und Simulation im Leichtbau
Notes
All theses can be written both in German and in English - independently from the formulation of the scope of work that is uploaded on this website.
The topics are also not assigned to special study programs.
In addition, we are open for your own suggestions of feasible theses topics. Please contact us.
Completed Theses
An overview of completed theses can be found here.