Change of modules from summer term 2020 on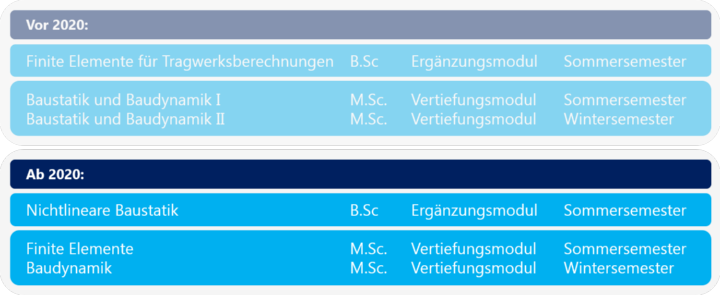 From summer term 2020 on, IBB offers the module "Finite Elemente" as a "Vertiefungsmodul" for Master students of civil engineering. It replaces IBB's former "Vertiefungsmodul" "Baustatik und Baudynamik I".
Contents of the former "Baustatik und Baudynamik I" are now lectured in the new module for Bachelor students "Nichtlineare Baustatik".
For Master students, "Nichtlineare Baustatik" can be chosen as a "Modul aus anderen Studiengängen" and will be accepted as a "Spezialisierungsmodul" for the Master's degree. Those, who want to have it accepted as a "Verteifungsmodul", should contact the examination board ("Prüfungsausschuss") via informal request.
Furthermore, from winter term 2020/2021 on, the new module "Baudynamik" replaces the former "Baustatik und Baudynamik II" as a "Vertiefungsmodul".
Modules in summer term 2022
Modules in winter term 2021/2022
Betonhohlkörper als Energiespeicher für die Energiewende

First steps towards a causal areal deformation analysis

Form finding of self-stressed tensegrity structures using rank minimization

Implementierung eines geometrisch nichtlinearen dreidimensonalen Timoschenko Balkens

Isogeometrische Analyse von getrimmten NURBS Flächen

Continuous redundancy distributions using Donati's theorem

Redundancy Distribution in Reduced Models

Stabwerkmodelle für Scheibentragwerke unter Zwangslastfällen

Stützlinie: Theorie und Praxis

Reliability of Redundant Frame Structures
Notes
All theses can be written both in German and in English - independently from the formulation of the scope of work that is uploaded on this website.
The topics are also not assigned to special study programs.
In addition, we are open for your own suggestions of feasible theses topics. Please contact us.
Master thesis in cooperation with industry
General remarks
Many companies offer topics for master theses. In this context, the following points need clarification:
Industrial companies are not in the position to offer a thesis. Only university staff is eligible to do this. Thus, strictly speaking, these offers lack legal justification.
This fact does not exclude the possibility of accepting the thesis topic, but the lead is clearly on the university side. It is the responsibility of the company to establish relations to institutions that are eligible and willing to advise a master theses in cooperation with the company. Ideally, this is done before launching the offer of a thesis.
Sometimes, cooperation with university professors has been negotiated by the companies beforehand. In these cases, it needs to be checked whether the corresponding professor belongs to the COMMAS teaching body. Otherwise, he or she can not advise a thesis without further consulting the examination comittee (Prüfungsausschuss).
Master thesis at the IBB
If you have identified a thesis topic offered by a company, which you think fits the profile of IBB, please proceed as follows:
Find out, whether the company has already made agreements with different possible advisors (in the spirit of the 3rd point above).
If this is not the case, ask the company to provide a draft of a task description following the format used by IBB and get into contact with us (mail to mvs@ibb.uni-stuttgart.de). You can take the thesis offers above as templates.
Completed Theses
An overview of completed theses can be found here.